I have mixed emotions about this book. On the one hand I think it was excellent. So many things, mind boggling, shocking, heartbreaking things, occur in this book. But I still CAN'T give this one the
5 Stars
that I wanted to cos of one important factor... There was hardly any
Kilter & Rayne
together in this one. WHY?!
This book was all over the place. But everything flowed well for what was occurring within the story. Things happened at the right times. The growth that had to happen with Rayne in order for her to be ready to embrace Kilter & his love for her & return it, all of this was done superbly. The pacing of the story was excellent and it was all believable.
Rayne's
journey was quite heartbreaking & I am so proud of how she handled things & so overjoyed to see where she landed.
Kilter's
journey was just as touching & I loved to see the growth of him accepting what was there for him all along with his Senses Brothers & Sisters, but also what he ultimately deserved with Rayne.
The way
Waleron, Delara, Damien, Abby,
their dilemmas & issues & what was happening with the villains surrounding them, was beyond incredible...
SHOCKING!
as well. And the action in this one? On point. I do have one issue with Abby in this though. And if you read it, you'll know exactly what I'm talking about. What landed her in her predicament in the 1st place is a MAJOR PLOT HOLE... Not good. Or at least it appears to look this way. I get the feeling all will make sense in time with this. But everything else that occurs here because of it,is great.
Now back to
Kilter & Rayne,
again where were they Ms. Paterson? I was not at all happy about the lack of intensity we are promised from the set up of such a character like Kilter & his possible relationship with someone like Rayne. I saw beautiful glimpses of what a dynamic like these two could be, but I didn't see anything that needed to be
shown
that left me warm, fuzzy, & happily exhausted. Where was it? They were a complete tease overall. And all the buildup, all that we go through (other plots unfolding etc..) to get to their 1st & only REAL present tense "Encounter" we get only a PG rated fade to black scene? This was so me when that sh*t occurred or didn't occur, I should say...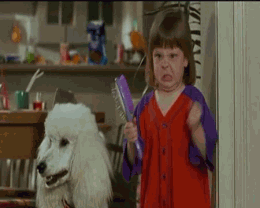 And this is why this book was not a 5 star for me.
Public Service Announcement To ALL AUTHORS:
DO NOT PLACE PREVIEWS OR ALLUDE TO CERTAIN HAPPENINGS IN YOUR STORY/ PLOTS THAT THE READERS WILL NOT SEE IN THE ACTUAL BOOK!
Thank you :)
I still would certainly recommend this read, obviously & this series. Just take care & heed this warning, that just cos you're set on fire doesn't always mean you're gonna be hosed down properly...
Please read this series in order.