WTHECK?!



I can't... I just... There are no words. The ending?



And Blake? You son of a biscuit eater! It is so on!



Now, as you can see this one has my emotions all over the place.
The suspense in this one is just completely off the chain, edge of your seat type of stuff. A few reveals but even more questions. And the cliff hanger is gonna have you looking like me...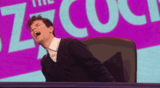 But you see Katy grow up even more in this one and you will see the struggle in this growth as well. Her and Daemon are even stronger yet more vulnerable than ever. The crew (Luxen clan) while broken from the events that occurred in book 2, have never appeared more united when it comes to the big picture and what needs to be done. I loved seeing this. Although some will never be the others' favorite person, these feelings are swept aside to get the job done and this is awesome.

Heartbreaking moments abound in this one but so do the sweet ones.

The reason why this one gets 4 instead of 5 stars from me is because when it comes to the build up between Katy & Daemon, I was honestly hoping for a bit more "fire" behind the explosion.

But in any case this is a MUST READ PEOPLE. And I highly recommend this series. It's awesome. Please start at the beginning.