Solid 4.5 Stars
I started this one late last night and could not be moved from it at all today. This book was beyond intriguing. Emotional, decadent, sexy, and all consuming. I loved the way this one flowed. The set up into this world pulls you in and keeps you there. You become so anxious to know what is happening or going to happen next, that you'll actually get angry that the answers are not coming fast enough. The melding of the past histories in with the present, the parallels, are done superbly. The telling of what seems to be 2 different stories coming together as one I loved.
For me there was nothing predictable about what was happening or going to happen. Ms. Sheehan certainly kept me on my toes. Screaming & gasping and pretty much looking like this throughout this novel...
And the ending & epilogue? Had me like...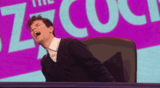 This trilogy I pray only gets better. I'm off to start book 2 & something tells me I'm gonna be insane for the 3rd book since it has yet to be released... If you are still lost on my point, I'm highly recommending that you read this book :D